Essa, Ontario Real Estate
Information On Houses, Farms, Listings, Sales and Schools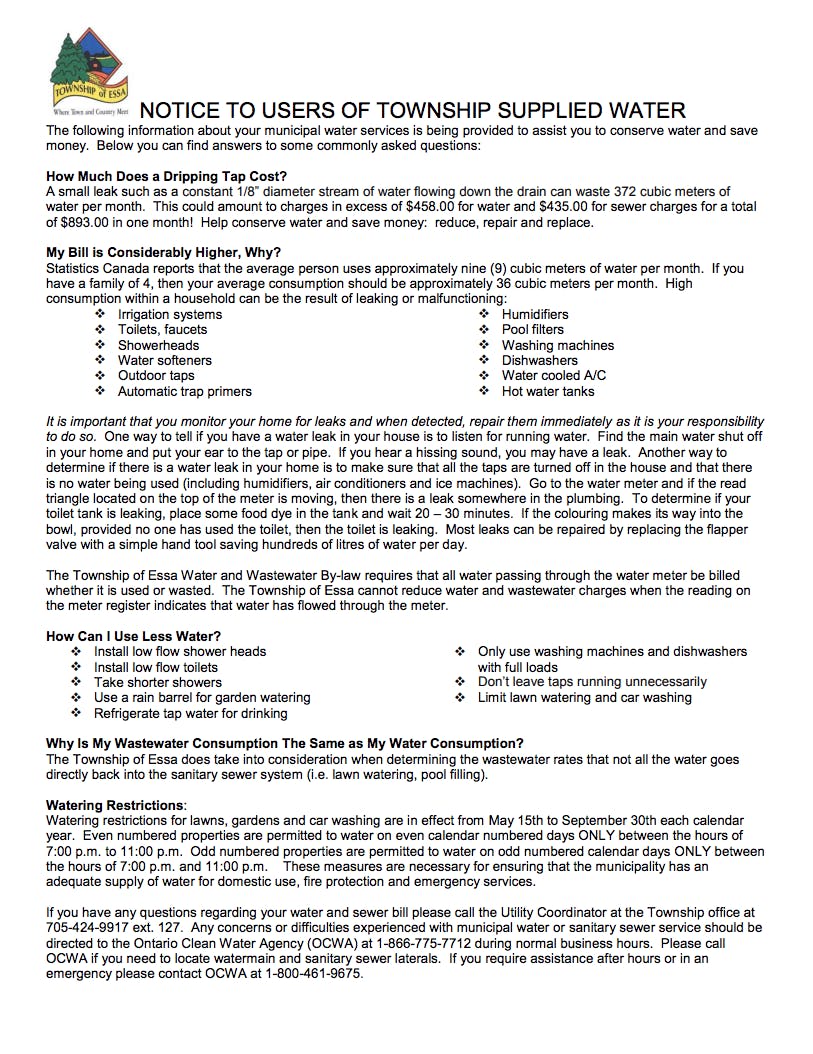 Mayor Terry Dowdall
Elected October 2010 – Present
Essa lies north of Highway 89 and west of County Road 27. It is mostly a rural township made up of Angus, Baxter, Thornton, Colwell and Rural Essa. Other smaller local communities are Cedargrove, Egbert, Elmgrove, Hoe Doe Valley, Ivy, Utopia and West Essa.
The largest neighbourhood is Angus, well-known as the home of the Canadian Forces Base Borden, and lies at the intersection of County Road 10 and County Road 90. The homes of Angus are mostly in the affordable price range, and feature townhouses, semi-detached and linked homes and a great variety of detached homes consisting of bungalows as well as 2-storey models.
Colwell is the smallest Essa neighbourhood on the Toronto Real Estate Board with detached homes near the 9th Line and 30th Sideroad just south of County Road 90.
Baxter is larger than Colwell but still a small rural neighbourhood of detached homes on larger lots at the intersection of County Road 21 (Murphy Road) and Line 5 (Denney Drive).
Thornton at County Road 21 and County Road 27 was named in 1854 after local businessman Henry Thornton. All the homes are detached and on septic systems, with many of the homes in 2 subdivisions built in recent years.
Rural Essa makes up most of the township. Many of the homes are on larger properties and are usually in the higher price range and fronting on county roads. The Nottawasaga River, a well-known landmark, passes Nicolston, Elmgrove, Baxter and Angus on its'way north through the community to Georgian Bay.
Essa is now attracting many new property buyers from Toronto, York Region and Peel as the home prices are still more enticing than those of homes farther south. In return, Essa is also proving that a more leisurely, rural lifestyle is well worth the drive to get home. The five neighbourhoods are described in video below.
School

Thornton
St Nicholas Elementary Catholic School
100 Lougheed Road 705-737-9082
St. Paul's Elementary Catholic School
100 James A McCague Avenue Alliston 705-435-7211
St. Joan of Arc Catholic High School
460 Mapleton Avenue 705-721-0398
St. Thomas Aquinas Catholic High School
2 Nolan Road Tottenham 905-936-4743
Baxter Central Public School
62 Denney Drive Egbert 705-424-9992
Cookstown Public School
5088 County Road 27 Cookstown 705-458-4461
Bear Creek Secondary School
100 Red Oak Drive 705-725-7712
Rural Essa
St. Nicholas Elementary Catholic School
100 Lougheed Road 705-737-9082
St. Pauls Elementary Catholic School
100 James A McCague Avenue Alliston 705-435-7211
Holy Family Elementary Catholic School
180 King Street South Alliston 705-439-3989
Our Lady of Grace Elementary Catholic School
24 Roth Street Angus 705-424-1026
St. Joan of Arc Catholic High School
460 Mapleton Avenue 705-721-0398
St. Thomas Aquinas Catholic High School
2 Nolan Road Tottenham 905-936-4743
Angus Morrison Elementary School
91 Simcoe Street 705-424-5701
Baxter Central Public School
62 Denney Drive Egbert 705-424-9992
Cookstown Central Public School
5088 County Road 27 Cookstown 705-458-4461
Tosorontio Central Public School
7016 County Road 13 RR#3 Everett 705-435-6023
Nottawasaga Pines Secondary School
8505 County Road 10 Angus 705-424-5030
Banting Memorial High School
203 Victoria Street East Alliston 705-435-6288
Bear Creek Secondary School
100 Red Oak Drive 705-725-7712
Nantyr Shores Secondary School
1146 Anna Maria Avenue 705-431-5950
Baxter
St. Paul's Elementary Catholic School
100 James A McCague Avenue Alliston 705-435-7211
Our Lady of Grace Elementary Catholic School
24 Roth Street Angus 705-424-1026
St. Joan of Arc Catholic High School
460 Mapleton Avenue 705-721-0398
St. Thomas Aquinas Catholic High School
2 Nolan Road Tottenham 905-936-4743
Baxter Central Public School
62 Denney Drive Egbert 705-424-9992
Nottawasaga Pines Secondary School
8505 County Road 10 Angus 705-424-5030
Banting Memorial High School
203 Victoria Street East Alliston 705-435-6288
Bear Creek Secondary School
100 Red Oak Drive 705-725-7712
Angus
Our Lady of Grace Elementary Catholic School
24 Roth Street Angus 705-424-1026
St. Joan of Arc Catholic High School
460 Mapleton Avenue 705-721-0398
Angus Morrison Elementary School
91 Simcoe Street 705-424-5701
Pine River Elementary School
45 Brian Avenue Angus 705-424-3317
Nottawasaga Pines Secondary School
8505 County Road 10 Angus 705-424-5030
Paramedic Station – 1 Treetop Street
Essa Fire Station 2 – 135 King Street
Public Library – 8505 County Rd 10
Utopia
Our Lady of Grace Elementary Catholic School
24 Roth Street Angus 705-424-1026
St. Joan of Arc Catholic High School
460 Mapleton Avenue 705-721-0398
Nottawasaga Pines Secondary School
8505 County Road 10 Angus 705-424-5030
Baxter Central Public School
62 Denney Drive Egbert 705-424-9992
Walk Through Rural Essa rural essa real estate houses listings homes farms
Website: Essa Township