Erin Corcoran
REALTOR® | Entrepreneur | Stylist
Founder of Simcoe County Shop Local
You could say that Real Estate is in Erin Corcoran's genes. She's a third-generation REALTOR® from a family of very successful and well-known Real Estate professionals in Canada. When she's not selling houses for RE/MAX Hallmark Chay Realty she is extremely busy with her passion project, Simcoe County Shop Local. Simcoe County Shop Local is a buzzworthy professional networking group, Facebook group, and online community she founded. The group promotes local businesses and brands, and engages in fundraising and charitable work such as the annual Holiday Soirée.Erin's real estate focus is in Simcoe County.  Erin is also a Certified Negotiation Expert and holds her designation (CNE). She's a member of the Barrie Chamber of Commerce and the Ontario Real Estate Association. Erin also has a background as a Designer. Erin loves people and loves helping them find their new home, find an audience and market for their local brand, or find the funds to help their non-profit's mission.
Natalie Bradbury

Part Time Assistant
erincorcoranrealestate@gmail.com
natalie@erincorcoran.ca
Why Real Estate?
Why not?!
From an early age I have been drawn to the home section of the paper to see what places were selling for and would dream that one day I could own my own family home. Of course online resources have taken home searching to a whole new level and there is so much at our fingertips but so many questions at the same time. Wouldn't it be great to be amongst a team or be that person with the knowledge to help someone find the home of their dreams?
During the healthy economic period of the 1980's in Ontario, my Dad was a custom home builder of which had naturally evolved from being a master carpenter. I was fascinated with the architectural blue prints and would often pretend that I had come up the designs and role play like I was speaking to my own clients. I loved the smell of new homes and on occasion helped clean them with my brother and sister to get them ready for the homeowners to move in. Often times I would tag along with my Dad to meet with a real estate salesperson because I wanted to. When I grew older I spent a summer learning the trade of finish carpentry to get a real hands-on approach as I was working towards my diplomacy in Interior Design.
What is it that makes you think and want to complete more in the industry?
Although I appreciate interior design and worked long hours in my career to achieve deadlines and client requirements there was something missing for me. Passion. It has taken me a long while to realize that I need to be invested in something that has some kind of human connection and not just a corporate goal. Real Estate has always been an option but I have only just opened my eyes to the opportunity. I am excited to take on what lies ahead!
Bronwyn Lavigne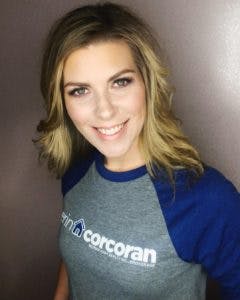 Part Time Assistant
scsl@erincorcoran.ca
erin@erincorcoran.ca
I accepted my position three years ago because I wanted to gain a stronger understanding of the businesses within our community and be given the opportunity to form relationships with more people, by assisting with Simcoe County Shop Local and Re/Max Hallmark Chay.
I welcomed the chance to apply my writing, creative, and organizational skills in a flexible work environment that was important to me as a mother of young children. I particularly enjoyed the opportunity to plan/style events, and design promotional materials. Having this part-time job is a way to get out of the house, meet people, learn about Simcoe County and real estate, and complete tasks which allows me a sense of accomplishment, all while spending more time with a great friend.